This page deals with completing the exterior shell and painting.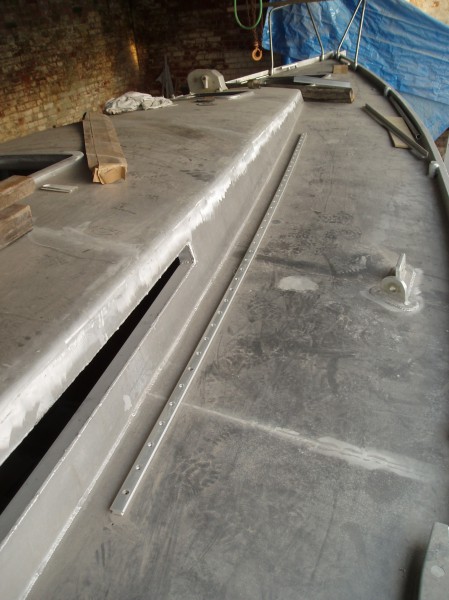 All of the deck hardware had to be fitted before being removed again for painting. Backing plates were added inside as required.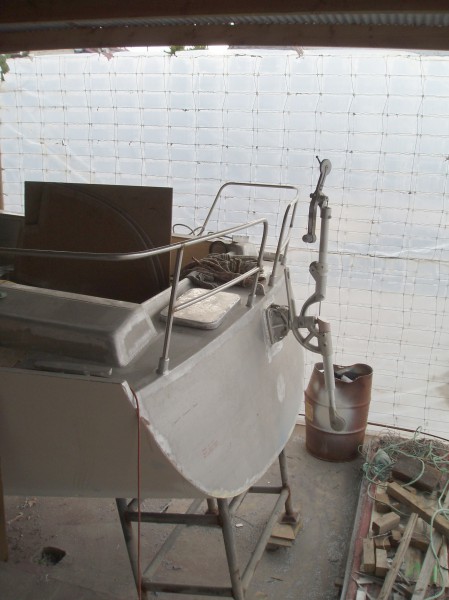 The steering vane and stainless railing were fitted.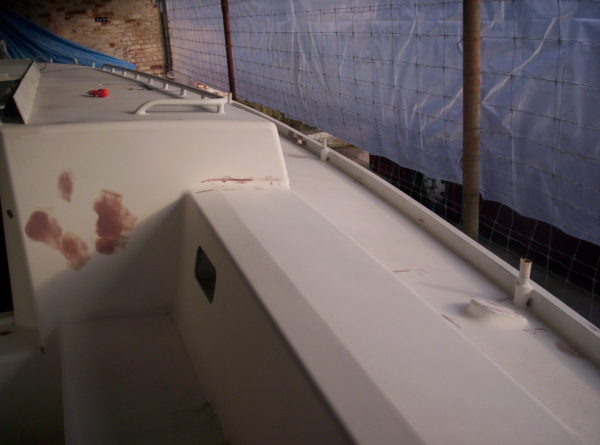 The deck plane was eventually sandblasted, sealed and faired, just like the hull earlier. Epoxy fillets were used extensively in the corners.
Using guide-coat (in blue) for sanding is extremely effective to obtain a near-perfect finish and highlight where to fill and where to sand.
The sheet material deck thread is laid in place and cut to shape to fit around the deck hardware.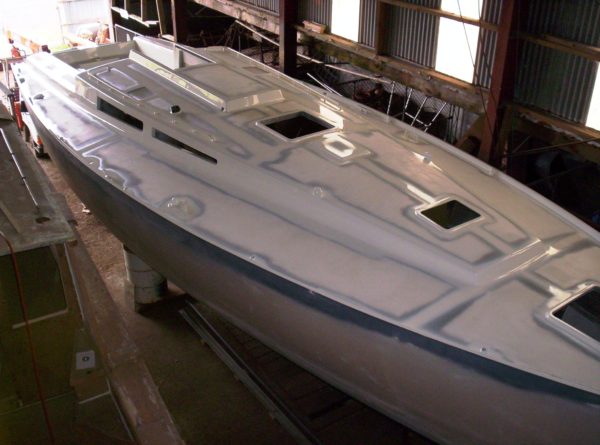 Finally, everything was removed and the deck topcoat was sprayed over all the areas that weren't to be covered by non-skid matting. Keeping a wet edge when spraying a deck like that is just a notional concept, but with two people to assist and manage the air hose, there were no problems. The day was Christmas Eve.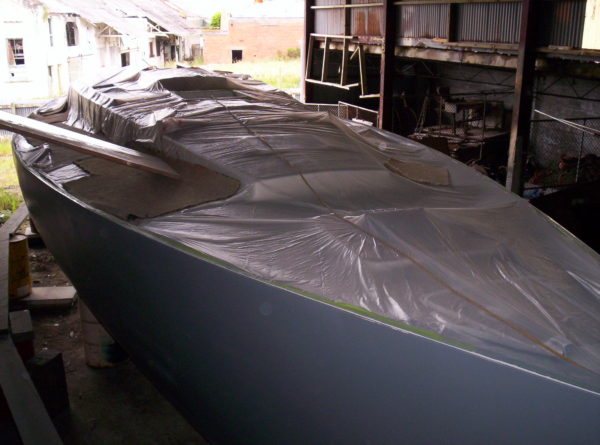 The deck was masked carefully and preparations for topcoating the hull began. The topsides were sanded and sprayed with a grey undercoat and the white boot top was then sprayed on its own.
The hull was masked above the boot top once the coating could stand taping and the topcoat was sprayed on.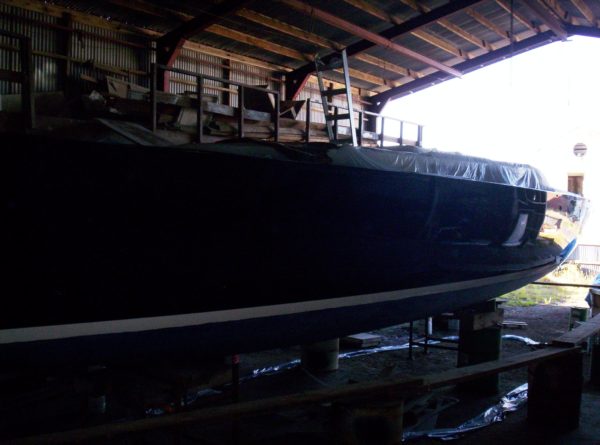 The transformation was little short of spectacular! A year or so out on the water does resolve this issue to some extent.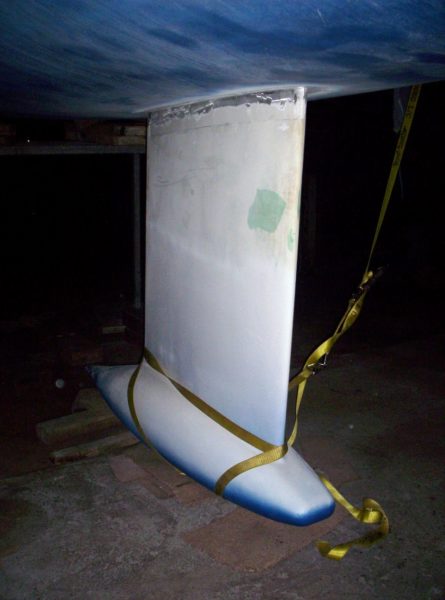 Back to serious considerations. The hull was lifted considerably, the keel driven underneath with the help of a forklift and the shell was then lowered on top of the foil. As the socket had been fitted earlier, the operation was quite straightforward.
A laser level was used to check the position of the waterline. Covering the topsides offered some protection to the new coating, but even more so against incessant questions about the launching date.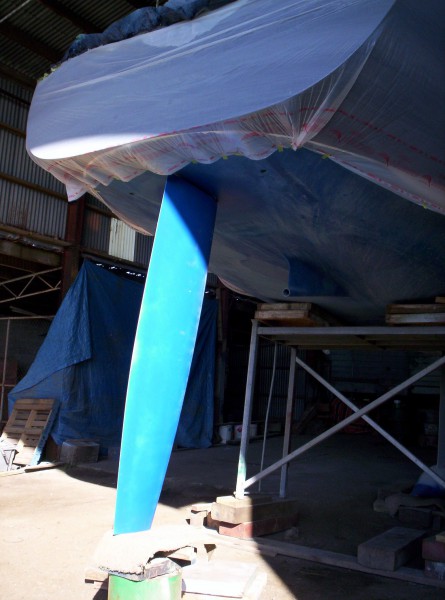 The rudder was also inserted into place to confirm the keel positioning. No room for error there.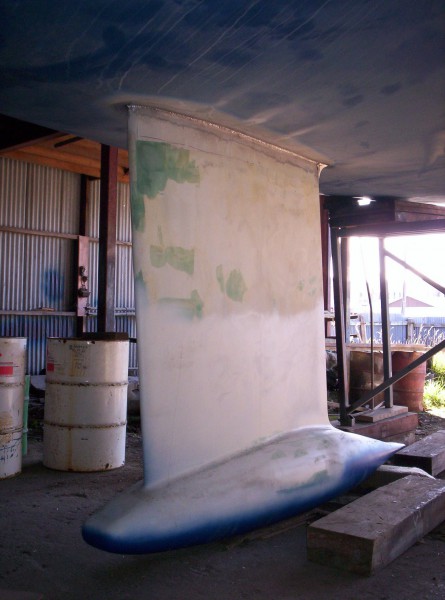 The keel was finally welded into place with the utmost precautions, starting from all the structural welds inside and finishing with the hull plating – just to keep the water out.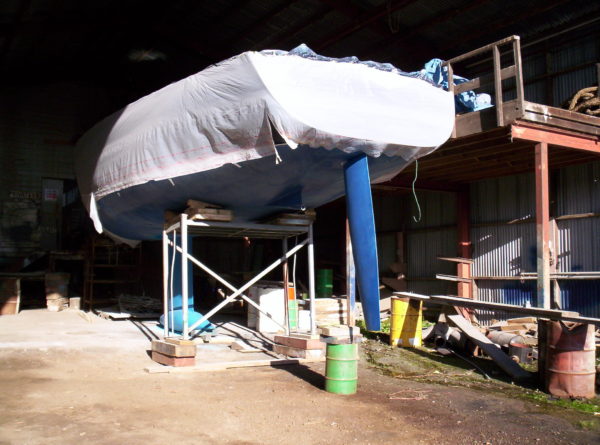 The keel/hull joint was painted, faired and a light coat of antifouling applied to the whole keel. Standing a lot taller now.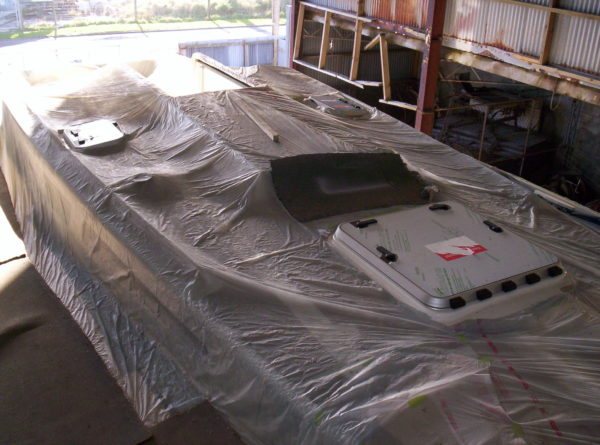 Back on deck, the masking started coming off and hatches were installed to close the concealed openings. I did manage to put one whole leg into one of them once before that. In hindsight, it was unnecessary.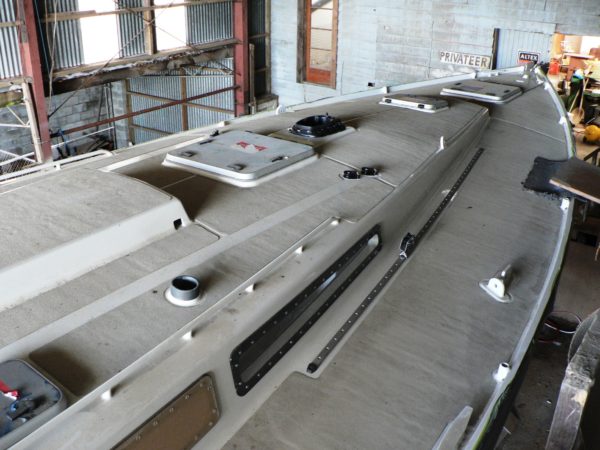 The deck thread was then bonded into place. Hatches, windows and deck hardware were installed to stay.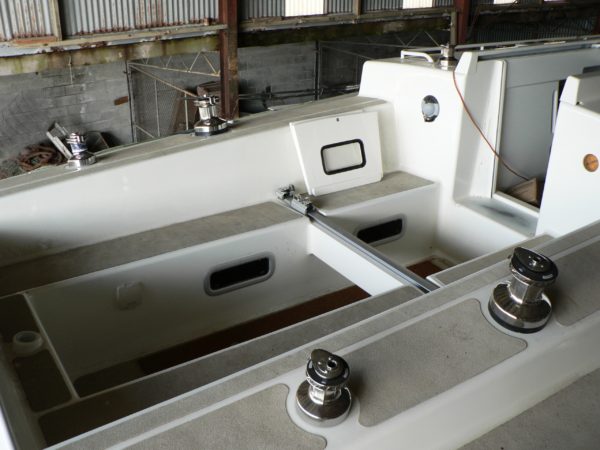 Winches and compass follow. The companionway washboards made of foam core and fibreglass were spray painted in the same time as the deck.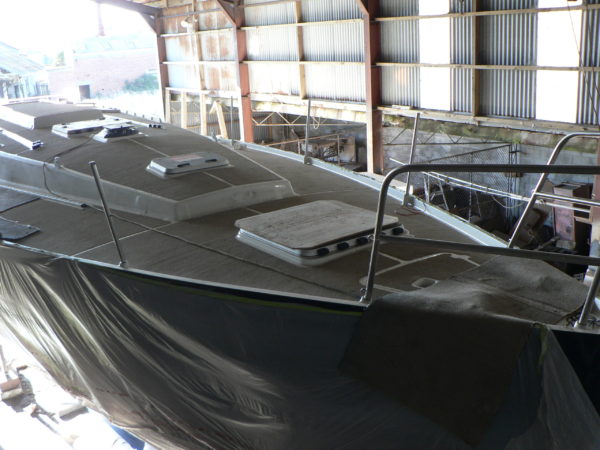 Pulpit and stanchions were finally installed.
Construction of the interior is described on the next page.