Wild South: Where From Here?
The Wild South 37 was designed and built as a concept boat for something that is quite radically different and superior to what the market has to offer. Over the years, a lot of considerations were discussed: larger and smaller vessels, same hull with a different look and appearance, different layouts… One variant I have always been tempted to look into is the more classic "Pacific Northwest" look with a stepped wheelhouse.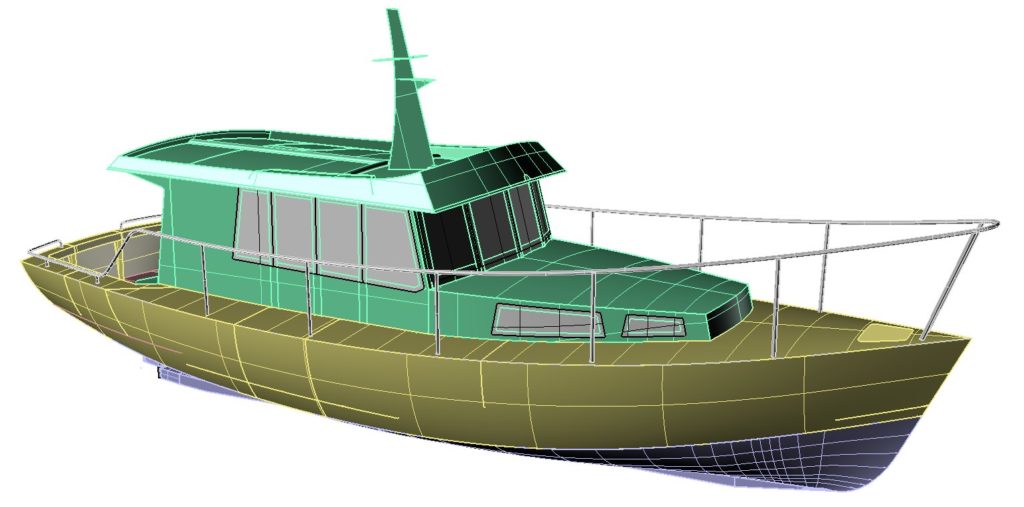 From a construction point of view, significant construction time and effort could be saved if the need for a hull mould was eliminated altogether.
While there is nothing wrong with constructing a male plug and building a one-off, a preliminary amount of brainpower has been invested recently into such considerations.
The first option coming to mind is of course building a high-quality hull mould to produce shells. This makes most sense in the context of building finished boats for a local market, otherwise the shells can be cumbersome to transport and prone to damage. However, the hull could also be split into two halves or even also at the chine into four curved pre-manufactured panels that could be joined on the main transverse bulkheads in a record time. Such panels would easily fit within a standard 40′ shipping container and could be transported economically to most destinations.
As for everything, and even more so when it comes to boats, demand is what decides what is worth doing and yacht design is at the thin end of the already very thin new builds market.
Larger Versions?
Considering the nautical characteristics of the Wild South 37, the temptation of expanding upwards into a range has always existed.
The Wild South 37 was designed as a simple, compact, comfortable coastal cruiser. A little more length would make for a more slender hull, better economy around the upper end of the speed range and a faster boat overall while retaining all of the remarkable motion, comfort and stability of the original design. A little more flare in the topsides would increase useable beam while leaving the underwater body largely untouched. A length between 42′ and 46′ (12.5 and 14 metres) should offer enough differentiation from the 37 to warrant designing a new boat.
Beyond this, the obvious development path goes towards a long-range, ocean-going motor yacht encompassing the same concepts of very moderate displacement, remarkable seaworthiness and economy. Simplicity combined with limited displacement immediately translates into a much more affordable construction cost with unmatched performance and economy afterwards when compared to heavy vessels.
Technically, even a 44-footer would be ocean-capable within its range, but a vessel in the 50′ to 60′ length more easily offers such capability, with greater volume and habitability.
Any thoughts?
Feel free to contribute below.